01 December 2020
Are industrial organizations a target for cybercriminals?
Kaspersky ICS CERT experts virtually provided ICS Training for Executives
Kaspersky offers Industrial Cybersecurity (ICS) Awareness courses based on the latest research and analysis conducted by the entire company.
Part of the Kaspersky ICS Training Portfolio is a 3-hour version of the Industrial Cybersecurity Executive Training. It helps executives and managers develop their awareness of current industrial cybersecurity issues, understand the main types of ICS vulnerabilities, clarify the key differences between typical ICS and pure IT networks and understand how the evolution of the internet of things can impact ICS security.
On November 17th, 2020 Kaspersky ICS CERT experts Senior System Analyst Semen Kort, and Research Developer Pavel Nesterov provided a shortened promotional version of the Executive ICS Training online for the first time.
51 participants from 22 different countries logged into the training. The participants learned about Cybersecurity Basics in Industrial Systems and watched a demonstration of an Attack on the IT Segment of a virtual company.
The audience got a general understanding of cyber threats and risks for industrial systems. Threats are real. Therefore, a strategy is required, along with a step-by-step plan to protect their businesses.
What kind of people are needed to put this into practice? What to expect as a result? This and more information was delivered by our two expert trainers.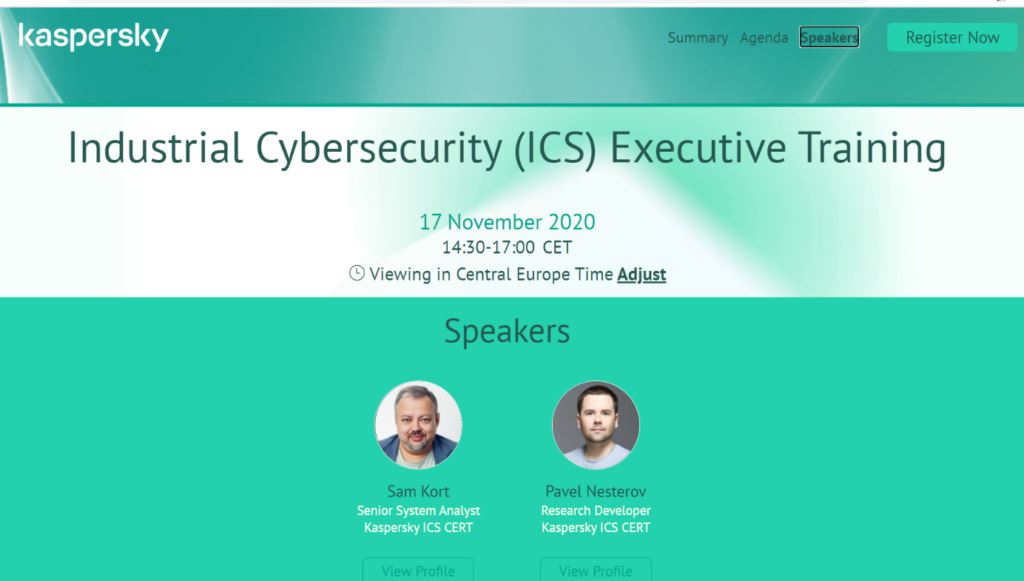 The participants gave the session the highest rating. 90% of responses stated that the training met their expectations and they are planning to run industrial cybersecurity awareness training for other employees in their organizations.